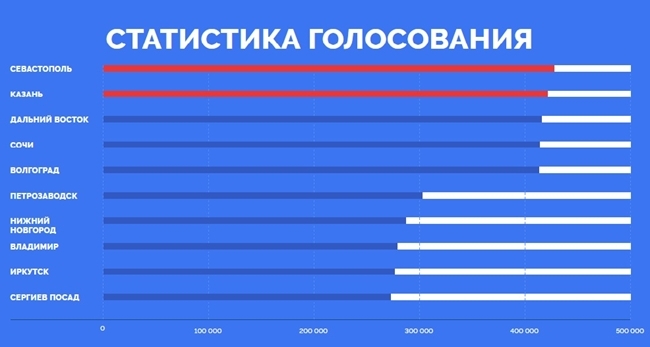 Online voting to select new 200- and 2,000-ruble banknote symbols ended on Твоя-Россия.рф website at 12:00 a.m. on 7 October 2016. Based on the selection made by Internet users and Bank of Russia Doors Open Day visitors, Sevastopol took the first position with 428,018 votes followed by Kazan (421,748 votes). The third position was taken by Far East (415,895 votes), followed by Sochi (414,218 votes) and Volgograd (413,644 votes) – all three being pretty close to the leaders.
With the competition in progress, the Russians still have their last chance to affect its final standings. Today, the final voting will take place live on Russia 1 TV channel from 19:00 to 20:00 p.m. Moscow time when TV watchers can send their SMS-messages or make a phone call to vote.
TV watchers' votes will be added to the votes on Твоя-Россия.рф website and after that two winners which symbols will appear on the banknotes will be announced.
It's up to Bank of Russia Board of Directors to decide which of the winners will be present on the 200-ruble banknote and which will decorate the 2,000-ruble banknote. The banknotes will arrive as early as 2017.
7 October 2016