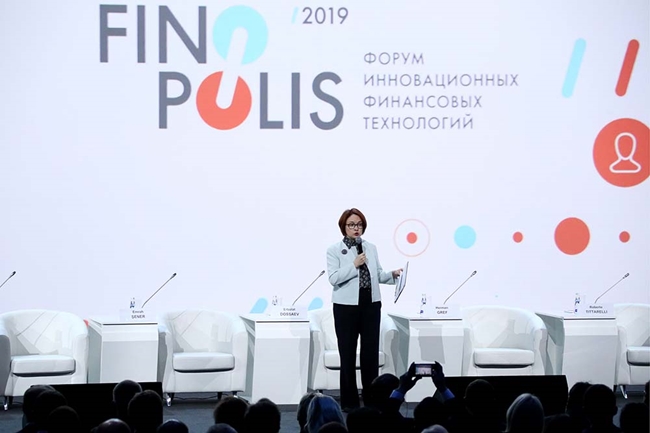 Photo: Dmitry Feoktistov / TASS
The innovative financial technology forum FINOPOLIS 2019 opened on 10 October 2019 in Sochi. This year is the Forum's fifth year. In her opening remarks Bank of Russia Governor Elvira Nabiullina noted: 'Financial technologies are changing the world; they bring huge benefits to consumers and businesses making financial services and products convenient and fast. However, they also bring risks, which also affect the regulator. All of us should evolve in order to be able to respond to these challenges. Five years ago, we promised soft regulation, and we will try not to strangle developing technologies in our regulatory embrace. I think it is high time to discuss the regulation and work out the agenda.'
The Bank of Russia Governor suggested discussing future priorities on the sidelines of the Forum which will help create conditions for the development of financial technologies and simultaneously regulate and protect the market from risks.
On the first day, Forum participants will discuss a broad range of issues from banking and fintech competitiveness and international licensing practice to payment innovations, cyber-security and digital law.
The second plenary discussion—Immersive FinTech: Personal Experience or an Illusion Thereof?—will cover such issues as personalisation, individual solutions and platforms, as well as digital solutions and loyalty.
The dependence on digital services, retail financial services, consumer superservices, RegTech and SupTech, quantum cryptography, fintech for small and medium-sized businesses, social engineering and other aspects will be key elements of sessions and round tables on the opening day of the Forum.
This is the day when Laurent Nizri, CEO of Paris Fintech Forum, Europe's largest fintech event, will meet Bank of Russia Governor Elvira Nabiullina to discuss main fintech development trends worldwide and in Russia.
10 October 2019