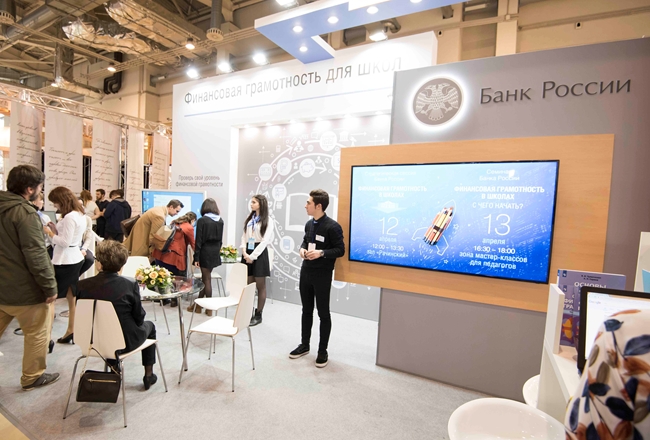 The Bank of Russia is taking part in the Moscow International Education Fair (MIEF) with an agenda that includes updates on the efforts to implement financial literacy and special projects in this area. The event opened on 18 April and will last through 21 April; its venue is Pavilion 75 of VDNKh (the Exhibition of Achievements of National Economy).
Visitors to the Bank of Russia stand at the fair will learn more on how to make a personal financial plan, how to reduce the risks of fraud related to online financial services, how to spot a fake banknote, what to watch when receiving a loan, and, finally, what is the importance of property and life insurance.
Everyone interested is welcome to visit the regulator's stand and take part in the Russian Financial Literacy Test, to access their knowledge of finance. Those completing the test successfully will be awarded certificates and commemorative prizes.
School teachers will have the chance to ask a practising financial literacy instructor and explore proposed educational programmes on training, retraining and further training of financial literacy instructors.
The stand will also unveil 'The Basics of Financial Literacy', a training package for the financial literacy programme, prepared and published with the support of the Bank of Russia. Thousands of schoolchildren already receive instruction on the basis of these materials.
Teachers are welcome to acquaint themselves with methodical recommendations as to how the basics of financial literacy can be included in secondary vocational education curricular and further education courses for financial literacy instructors.
Bank of Russia MIEF participation plan is detailed below.
18 April
'How to use integrated and partial programmes to develop core pre-school educational curricula'. Presentation title: Introduction of a financial literacy package in pre-school educational establishments (11:00–11:50, Pestalozzi Room)
Masterclass 'Personal financial planning' (11:00–12:00, Bank of Russia stand)
Joint Bank of Russia and Finance Ministry session 'Transforming agency-level financial literacy programmes into the Strategy for the Improvement of Financial Literacy' (12:00–13:30, Korchak Room)
'Current issues of the state policy in education services for children with health limitations and disabilities.' Presentation title: Delivery on the RF President's joint instructions to introduce financial literacy packages into educational programmes (13:00–13:30, Vygotsky Room)
'Training youth leaders for children's recreation facilities: current state and prospects'. Presentation title: Financial literacy programme: finance at your fingertips (17:00–18:00, Korchak Room)
19 April
Masterclass 'How to spot a fake banknote' (11:00–12:00, Bank of Russia stand)
Masterclass 'What is human capital' (14:00–15:00, Bank of Russia stand)
Counselling for teachers (17:15-18:00, Bank of Russia stand)
Joint Bank of Russia and Finance Ministry session 'Delivery on financial literacy programmes on a regional level' (15:00-16:30, MIEF Regions Room)
Profession-oriented instruction at secondary vocational education. Presentation title: 'Improving financial literacy of students at professional educational establishments' (15:00–16:00, Gastev Room)
'Improving financial literacy of the most vulnerable citizen categories' (16:00–18:00, the Ministry of Education and Science stand)
20 April
Game-based financial literacy masterclass 'Finance at your fingertips' (12:00–13:00, All-Russian Children's Centre Ocean stand -37)
Lecture 'Safety fundamentals in e-banking' (14:00–15:00, Bank of Russia stand)
Masterclass 'Basic concepts of financial literacy' (15:15–15:45, Bank of Russia stand)
Masterclass 'How to spot a fake banknote' (16:00-17:00, Bank of Russia stand)
Award ceremony of the Russian Financial Literacy Test, (17:15–18:00, Bank of Russia stand)
21 April
Masterclass 'To save or to borrow?' (11:00-11:30, Bank of Russia stand)
Masterclass 'How to spot a fake banknote' (12:30-13:00, Bank of Russia stand)
Game-based financial literacy masterclass 'Finance at your fingertips'(12:30–13:30, Artek International Children's Camp stand – 2630)
Lecture 'Safety fundamentals in e-banking' (14:00–15:00, Bank of Russia stand)
18 April 2018