Bank of Russia, Prosecutor's General Office sign cooperation agreement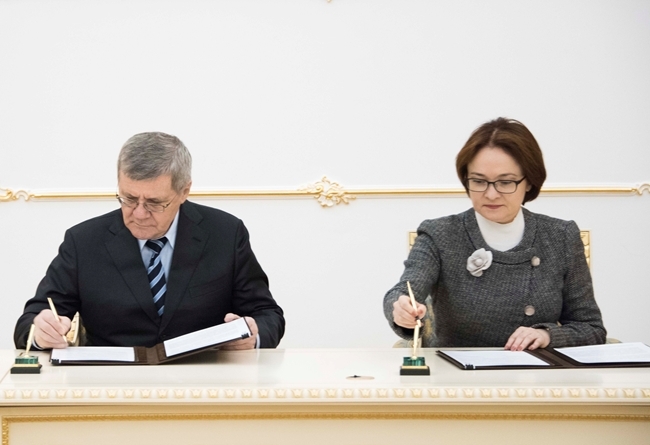 The document signed by Bank of Russia Governor Elvira Nabiullina and Prosecutor General of the Russian Federation Yuri Chaika is aimed at establishing prompt information exchange between the agencies.
'The previous agreement was signed 20 years ago. Both the financial system and the regulator have undergone considerable changes over two decades. The new agreement will enhance efficiency in preventing malpractices and crimes in the Russian financial market', Elvira Nabiullina stated.
The agreement is aimed at strengthening law enforcement in the credit and finance sector, maintaining stability of the banking system and financial markets of the Russian Federation, protecting interests of financial services consumers, countering illegal activities of individuals and legal entities as regards consumer lending, as well as legalisation (laundering) of criminally obtained incomes and the financing of terrorism.
The cooperation between the Prosecutor General's office of the Russian Federation and the Bank of Russia can be conducted by way of meetings, conferences, interagency working group sessions, statistics checks, as well as interaction among ad-hoc task forces, the document states.
16 February 2017