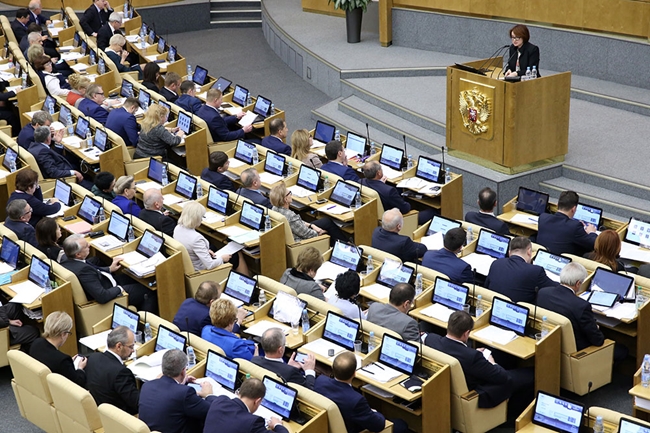 Photo: Stanislav Krasilnikov / TASS
Mr Chairman and esteemed deputies
Today, I would like to present the Monetary Policy Guidelines for 2019-2021.
The draft document was first presented to the State Duma on 1 October and discussed with deputies and experts. The discussion resulted in amendments to the Guidelines, which you may find in the final version of the document.
This document defines our economic outlook, inflation forecast and policy approaches. Also, it factors in the new approaches to the fiscal policy and the state economic policy overall, which have been introduced in presidential decrees, Government plans and the three-year budget.
I will begin with the current economic environment and the challenges faced by monetary policy, and continue with the forecast.
Our estimates suggest that the economy is growing at the rates close to potential. We estimate that this year growth will stand at 1.5-2%. Certainly, a country like Russia cannot be satisfied with such growth rates.
Today, all of us – the Government, the Bank of Russia, the State Duma, businesses, and the Russian society as a whole – should put their best efforts in to raise labour productivity and potential growth. We need to raise labour productivity, improve the business climate, and achieve investment growth. The Government has taken a number of economic policy decisions aimed at encouraging structural shifts in the economy.
The Central Bank has elaborated a financial market development package that will be presented in the Guidelines for the Development of the Financial Market in the next three years. We believe that these measures may accelerate GDP growth to 3% in 2021.
How should monetary policy look in these conditions?
Low inflation remains our priority.
In the current environment – an all-time low unemployment rate coupled with growth rates close to potential – monetary policy by itself cannot lead to a sustainable acceleration of economic growth rates.
We should have no illusions about it. Furthermore, the measures suggested by the Government will only be efficient and will lead to a rise in long-term, primarily private, investment when inflation is sustainably low. High inflation rules out long-term investment, as well as affordable long-term loans denominated in the national currency.
This means that at the current stage of the economic cycle, our monetary policy remains invariably focused on permanent 4% inflation.
As you may know, inflation has been close to 4% or below the target for only about eighteen months. Lending is on the rise while interest rates, especially long-term ones, are gradually declining following the path of inflation and inflation expectations.
In the first ten months of this year, corporate lending increased by 5.9%, overpassing the figure for the ten months of the previous year more than twofold. Growth in household lending remains high (+18.7% vs 9.8% in January-October 2017). Mortgage lending added 17.4% in the ten months in question, whereas in the same period of the previous year it expanded by less than 10%.
Rates rose slightly in recent months in response to a key rate hike.
However, lending continues to grow, that is, interest rates remain at a level comfortable for borrowers. Higher interest rates on deposits raised their attractiveness for households, and having declined in August and September, deposits resumed growth, rising by 0.6 pp in October. The situation is therefore rather well-balanced for borrowers, on the one hand, and bank depositor, on the other hand.
It is for a reason that I have drawn your attention to lending. We often hear calls for a rate cut and concerns about the effect our policy (thought to be too tight) may have on lending. Current dynamics and our four-year experience of inflation targeting show that rates decline sustainably as inflation drops. Evidence from other countries shows a similar scenario, and these are not individual examples.
In fact, inflation targeting countries account for more than two thirds of global GDP.
These countries successfully achieve sustainably low inflation.
Moreover, real interest rates in these countries go down as they introduce inflation targeting.
We are convinced that the policy aimed at keeping inflation low in the long run is a policy aimed at ensuring affordable loans. We can see that from comparison with other countries.
Monetary policy cannot offset internal structural constraints. However, a clear and predictable monetary policy that ensures low inflation coupled with instruments sustaining financial stability helps reduce the economy's sensitivity to external shocks. This is crucial for us. This is of greater importance today than in previous years. We have to achieve a transformation and shift to a new growth model amid unfavourable external environment and high uncertainty.
What kind of external risks are we facing and how should we factor in these external risks in our policy?
First. Oil-associated risks.
Our economy remains reliant on oil prices. At this point the most important stabilisation tool is certainly a floating exchange rate. The floating exchange rate allows the financial system and the economy to adjust and function normally independent of oil price levels. However, we know from our experience that risks arise not only from price fluctuations themselves but when they are sharp, fluctuations cause volatility in financial markets as a whole.
This makes us stay alert and be rightfully conservative in our forecasts. Just recently, our baseline scenario was dubbed too conservative. However, the high price levels we witnessed in the middle of this year have held for only several months so far. In recent weeks, oil prices slumped nearing the 2018 lows at some point. I would like to emphasise, however, that though oil remains a material risk factor we closely watch, our calculations suggest the Russian economy has become considerably less sensitive to fluctuations in the oil market. This is mostly attributed to the fiscal rule.
Second. What kind of external risks do we face? We face risks associated with the so-called monetary policy normalisation in the US and its effect on emerging markets. The massive capital inflow seen worldwide in recent years, when emerging market economies conducted an unprecedentedly soft policy, may give way to capital outflow just as sizeable and long-lasting. History shows that emerging markets may be the first to suffer.
Another new serious challenge came this year from escalating foreign trade tensions between the US and China and some other countries. Mutual protectionist barriers imposed by the largest economies undermine global trade and threaten sustainable global growth. These may lead to considerable surges in market volatility, stock market crashes and – in the most adverse scenario – a shift from trade to currency wars.
We saw a slew of examples this year, when external and domestic economic and political developments combined to trigger the emergence of acute problems in individual countries, which then spilled over to all emerging markets. Importantly, the doubts as to the central bank's ability to pursue an independent and balanced monetary stance, including the efforts to warrant sustainably low inflation, emerged as a key reason behind the instability in these countries. Economies with heavy debt burdens, current account deficits and inconsistent monetary and fiscal policies tend to be more vulnerable. This is why key takeaways, as we look into other economies' experience, include the need for a responsible policy from the standpoint of both budget expenditure / fiscal policy and monetary conditions.
Third, I will speak on the risks associated with sanctions. As we saw in the past few years, sanctions themselves have a negative but time-limited impact. Ultimately, both the financial system and the economy adapt to them. Given the current environment of uncertainty as to future sanctions, we should have a whole toolset that enables us to maintain financial stability. Subject to further developments, we should be prepared for a real strengthening in sanctions pressure on the market, as well as market unrest on the back of negative expectations. Let me remind you that back in September we suspended fiscal rule-based foreign currency purchases – in direct response to a surge in volatility in Russian financial markets. The stabilisation that followed, both in the OFZ and foreign currency market, came as evidence that we were right to act so.
Given both external and domestic factors including the VAT increase, the balance of economic risks is skewed towards pro-inflationary risks. This means that our monetary stance should remain slightly tighter than if none of these risks were in play. Importantly, the specific course of action in the field of monetary policy will be determined based on the actual realisation of risks and their impact on inflation expectations.
Let me now proceed to speak on forecast scenarios in the Monetary Policy Guidelines.
There are three scenarios we are considering.
The baseline one suggests that the price of oil in 2020 will drop to $55/barrel.
The unchanged oil price scenario assumes the average oil price will stand at $75/barrel. Although the Guidelines name this scenario as 'the unchanged oil price scenario', it may also be referred to as the high oil price scenario considering recent price trends.
The risk scenario.
The Bank of Russia's baseline scenario assumes annual inflation to accelerate to 5-5.5% in 2019 and to return in 2020 to our 4% target.
Inflation is set to accelerate, triggered by a weaker ruble and the VAT increase. We estimate the VAT increase contribution to annual inflation at ≈ 1 pp; at the same time, the range of estimates is likely to be wide and depend on how the situation unfolds. Ultimately, we estimate this range to total between 0.6% and 1.5%.
We further estimate that next year's GDP growth may slow down to 1.2-1.7% as a result of the dual effect of shrinking oil prices and raising VAT. We believe, the latter factor is set to make only a transitory impact – to be set off in the second half by rising demand in the public sector.
GDP will accelerate in subsequent years, our estimates show.
Regarding the $75/barrel scenario. Its is only slightly different from the baseline one in estimated inflation and GDP – mainly explained by the application of the fiscal rule which evens out the influence of oil price trends on market conditions.
The inflation path in this case is set to be close to the baseline scenario, while oil prices at $75/barrel will deliver 1.5-2.0% growth in 2019 will deliver its 1.5-2.0% growth.
The Bank of Russia has also made risk scenario calculations in the Guidelines. This scenario assumes sizeable capital outflow in 2019 on the back of potentially strengthened sanctions and/or capital outflows from emerging markets. The risk scenario assumes that the oil price will drop to $35/barrel. This does not mean that we believe this is a probable scenario. Yet, we should understand how negative developments would unfold and what our response would be. Our estimates show that this scenario assumes a recession in 2019 – until 2020 when the economy resumes growth, with growth rates in the course of 2021 likely to be comparable to those in the baseline scenario. We do not rule out a short-term surge in inflation to double-digit values, along with the need for a tighter monetary policy stance. The effects of these developments would however be short-term and manageable thanks to the toolset at our disposal.
Some words about a key point. This concerns the regional dimension of our operations and our monetary policy, a question that regularly arises at our meetings.
We place heavy emphasis on this line of our operations when developing the forecast, making sure regional processes are reflected in both the forecast and monetary policy decisions. We need to focus on, beyond average economic indicators, the nature of regional economic developments. Our regional offices have been ramping up analytical competences. Each week ahead of the Board's key rate meeting, heads of BoR main branches in federal districts come to Moscow to report on the situation in the regions. Our advice on monetary policy matters is a no less important – in fact, possibly more important – focal point. Our experts are in close interaction with government agencies, taking part in taskforces attached to regional administrations. In many regions, information exchange agreements are in place. Each key rate meeting is followed by roundtables and workshops with regional business arranged by Bank of Russia staff. In 2018, such meetings have taken place in 25 cities and have been attended by over six thousand representatives of the real and financial sectors, local authorities, the expert community and universities.
Our goal is to act as a partner to the regions as we strive to develop regional economies on a sustainably low inflation platform.
And, finally, let me comment on the not so uncommon view of the Bank of Russia as the main pessimist in this country. We seemingly focus too much on threats, risks, and uncertainty. We always approach forecasts conservatively. Yet in fact, we are not pessimists. Not only do we believe that our country and our economy can do better – we are making every effort to deliver this better performance. We are focused, among other things, on the task of enabling the national economy to grow at a sustainably high pace and fostering an increase in the real incomes of the population. Financial and macroeconomic stability is the essential – not exhaustive but absolutely essential – enabler here. We need to be always mindful of risks so we give people more confidence about the future. We need to have the whole toolset at our disposal in order to sustain financial stability, bring inflation back to its target level and neutralise financial stability risks.
Thank you very much for your time.
21 November 2018