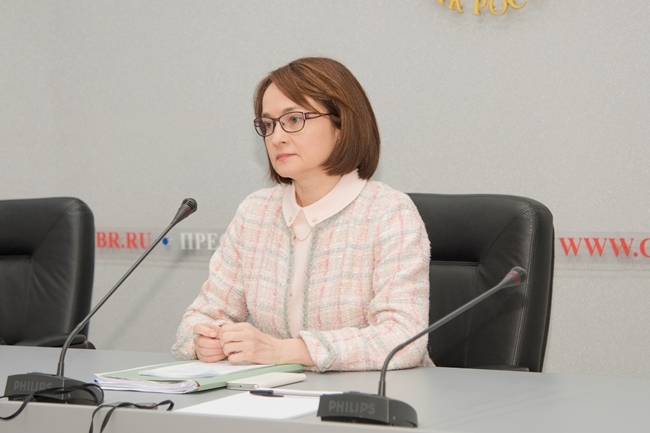 The Bank of Russia today has decided to keep its key rate on hold at 11% per annum.
Why have we taken this decision? It is true that in February – early March, external conditions and the situation in the Russian economy and in the financial markets improved. Oil prices picked up, inflation declined, recession slowed down, and the ruble appreciated. However, there still remains high uncertainty with regard to further oil price dynamics, other external conditions, as well as the sustainability of positive trends recently observed in the Russian economy.
Given the situation, it would be sound not to act rashly to prevent moving in the opposite direction afterwards. Stability and caution in the monetary policy are very important. We must ensure a steady path of reducing inflation to our target of 4% by end-2017. We are perfectly sure that only low inflation is a guarantee of stability and low interest rates in the economy. In order to keep interest rates steady and low, we should first ensure sustainably low growth rates in consumer prices and a decrease in high inflation expectations. Then, proceeding from this, we will have stable and low interest rates. This requires a consistent and gradual interest-rate policy of the central bank. That is why the Bank of Russia may pursue a moderately tight monetary policy for a longer period of time, then assumed earlier, to achieve the inflation target.
Now, I would like to indicate the factors taken by the Bank of Russia into account while making the decision on the key rate. Firstly, this is a change in external conditions, in particular, oil prices and risks posed to oil prices and global economy in general. Secondly, inflation dynamics and inflation risks. Thirdly, economic dynamics. Fourthly, fiscal risks.
Let me give more detail on the trends and risks I have outlined.
External conditions
We have reviewed our baseline scenario and now proceed from the fact that the average price of Russian Urals crude will be equal to $30 per barrel in 2016. It will rise then gradually to $40 per barrel in 2018.
In the past few weeks, we observed a certain recovery in oil prices, but how long it will last? Price recovery is more attributable to market expectations of future price changes, rather than actual changes in the oil market. The global oil market continues to see excess supply and a record high level of stocks. This is suggestive of oil price risks.
Oil prices are hard to forecast. The Bank of Russia proceeds from conservative estimates in order to be prepared for any developments in the oil market.
The persistently high uncertainty regarding world economic growth outlook is also viewed as an important factor by the Bank of Russia. The central banks of most developed countries continue pursuing soft monetary policy trying to overcome the threat of deflation. However, financial markets dispute the efficiency of the soft monetary policy in the current conditions. As a result, volatility in the global financial markets remains high.
Inflation
The recent data of 14 March suggest that annual inflation is 7.9%. In the February to March period, it was decreasing somewhat quicker than we expected in January. We expected it to be at 8%-9% for the end of Q1. This takes me back to the 9% reading for March 2016 we forecast a year ago. Average daily price increment in March was at this year's low. This performance is explained by several reasons.
First. The constraints from the demand side are growing. Inflation is constrained by weak consumption as the monetary policy remains moderately tight and the fiscal policy – conservative. The growth rates of nominal wages are all-time low, both in the public and private sectors. Furthermore, decreasing is the pressure on prices from the side of producers' payroll costs. Additionally, the deteriorating external climate is set to impact on domestic demand.
Second. The dwindling share of imports in consumption serves to downplay the response of domestic prices to the exchange rate fluctuations. The share of imported products in retail sales for 2015 is down to 38% from around 44% seen between 2012 and 2013. The response of households is also of relevance: even as the ruble was weakening strongly, no upsurge in demand was seen from households in December-January. The resulting pass-through of exchange rate effect to inflation is continuing to decline gradually, it currently totals around 0.15-0.2. This is the second driver, positive-working in terms of inflation processes.
Third. The global downward trend in the price of food is ongoing. This impacts positively on imported food prices and costs in the food industry. As a result, domestic annual food prices were growing in February slower than prices for non-food goods and services. Production costs are also pushed down somewhat by the declining global energy prices.
Our estimate suggests that inflation decline will continue. This will occur, driven mainly by the factors I have mentioned: low demand, the current monetary policy, a moderate impact from the exchange rate and decreasing external prices.
This refers to the decline in monthly and quarterly inflation. Annual price growth rates may accelerate in the middle of the year, but only on the back of the low base effect of last year. This is a statistical effect. In the second half of the year, as our forecast suggests, annual inflation is set to resume its decline, provided there are no new shocks emerging. Some pressure on 2016 prices is envisaged from increased excise duties, those on fuel in the first place. Yet its input is expected to be minor: circa 0.5 percentage point into annual inflation inclusive of all types of effect. Our baseline scenario suggests that annual inflation will total under 6%, decreasing to the 4% target in late 2017.
Inflation risks
Importantly still, inflation risks, that is, the risks that inflation may cease to decline or decline slower on the way to the target, remain high. The core risk sources are as follows.
- First. Oil market instabilityI have covered this.
- Second. The risk that elevated inflation expectations would remain. They are currently resuming to decline, but they remain high. It is crucial that the trend towards reduced expectations remains and becomes more sustainable. In the first place, this must be prompted by slowing actual inflation; however, confidence in the Bank of Russia-implemented monetary policy is here of crucial importance, too. We are concerned about elevated inflation expectations expressed by professional analysts and economists.
- Third. Here we are faced with several uncertainties surrounding budget configuration, in particular, the prospects for extra indexation of pensions and wages. This risk source may be the most important. A balanced fiscal policy is essential for the economy. Given the change in external conditions, a ceiling on deficit and budget spending growth must be set down. Here we need a mid-term clear strategy to reach balanced budget so that all economic agents are fully knowledgeable about budget deficit over three years' horizon and about the sources of its funding. A consistent and responsible policy is a precondition for stable economic development, as well as key prerequisite for lower inflation and financial stability risks. Analysis shows that, all other things being equal, more conservative fiscal policy allows for softer monetary policy, and vice versa.
- Fourth. The prospects for a turnaround in the global food prices. This would also have negative influence on annual and monthly inflation in Russia. As is usually the case for this time of the year, there remains uncertainty surrounding Russian crops, which would potentially have influence on 2016 prices.
We recognise all these risks as we make our key rate decisions.
Economy
At the beginning of the year, the dynamics of the economic activity were somewhat better than we expected considering the downturn in external conditions. The annual slump rates in consumption and investment are slowing down, with unemployment still remaining low. In February, the annual growth of industrial production became positive although it is too early to view this tendency as steady.
We see the economy is quick enough to adapt to a new reality due to the positive tendencies which evolved last year. The floating exchange rate softens the influence of external shocks. The ruble depreciation boosted competition which supports agriculture, food, chemical and mining industries. There are signs of growth in the industries oriented to import substitution and exports, including non-energy exports. Besides, as for the economy structure in general, it is obvious that the so-called tradable sectors (the output of these sectors can be imported and exported, and sold in external markets) are in a better shape when compared to the non-tradable sectors which include, for example, trading sector and construction.
The economy adjustment to a low level of export prices is not yet completed. According to Bank of Russia estimates, the economic recession in 2016 will slow down.
Structural liquidity deficit reduction
In making its key rate decision, the Bank of Russia also takes into account the dynamics of interest rates in the economy and ruble liquidity developments.
A gradual transition from banking sector liquidity deficit to surplus is possible in the near term. It could happen as early as 2016. Liquidity surplus means that banks' demand for central bank deposits exceeds their demand for refinancing. The main transition factor is liquidity inflow through the budget channel. It is possible when budget expenditure exceeds its income, which is mainly financed mainly by the Reserve Fund.
In the course of this transition to surplus, money market rates might shift slightly within the Bank of Russia interest rate corridor, moving from its maximum to the minimum. Besides, amid liquidity surplus the central bank's rate would rather act as a reference rate for the deposit rates, than for the lending rates of the banking sector. As a result, a minor easing of monetary conditions is possible even under the unchanged key rate. We will continue to closely analyse liquidity developments and take them into account as we make decisions on the key rate.
At the same time, it is worth noting that the existing system of instruments enables an effective rate management both under liquidity deficit and liquidity surplus. We can conduct deposit auctions. In view of the above, the key rate will remain an 'anchor' for money market rates and other rates in the economy after the structural surplus emerges. Besides, we have a set of additional measures at our disposal to reduce liquidity surplus or slow down the transition to it.
Now, a few words about the new forecasts and scenarios
We reviewed our baseline and risk scenarios with different oil prices. We reduced oil price assumptions for both scenarios. The updated baseline scenario suggests a sluggish recovery from the average of $30 per barrel in 2016 to $40 per barrel in 2018. This scenario is close to the risk one released in December. However, in view of current more positive economy and inflation dynamics, the forecast for economic fundamentals is somewhat more promising in the baseline scenario. We expect a GDP drop of 1.3-1.5% in 2016 and close-to-zero growth rates in 2017. GDP growth rate will become positive in 2018. The advancing processes of import substitution and non-energy export expansion will help a gradual economic activity recovery.
We also prepared a more negative scenario featuring a persistent oil price decline to a lower level, which will remain for quite a long time. In this case, we assume a GDP drop of 2-3% in 2016. Inflation will be more elevated than under the baseline scenario, exceeding 7% by the end of 2016. Currently, we assess the probability of this scenario as low.
Concluding remarks
In conclusion, I would like to speak about few more aspects of our forecast.
A few words on the balance of payments. We do not perceive any significant risks related to the current balance of payments. Our estimates show that under all scenarios external debt payments will be processed smoothly. Clearly, income from exports and current account balance will decline given lower oil prices: the baseline forecast assumes a drop to $40 billion in 2016 (4.1% of GDP) with a gradual increase to $50 billion in 2018 (4.1% of GDP). However, there will be no high capital outflows. According to the baseline scenario, the outflows will amount to approximately $40 billion in 2016, followed by a slight increase. Therefore, we do not expect any significant changes in the Bank of Russia international reserves. The risk scenario suggests a more prominent drop in exports, but also a little lower capital outflows than under the baseline scenario because of a contracted demand for foreign assets. However, the current account adjustment will be more substantial than that of the financial account balance. Under this scenario we consider an increase in the Bank of Russia foreign currency refinancing as possible.
Overall, our estimates show that in the mid-term Russian economy will adapt to changes in external conditions, even if they are more considerable. All our scenarios suggest that over three-year horizon the GDP growth will become positive and inflation will reach the 4% target.
18 March 2016