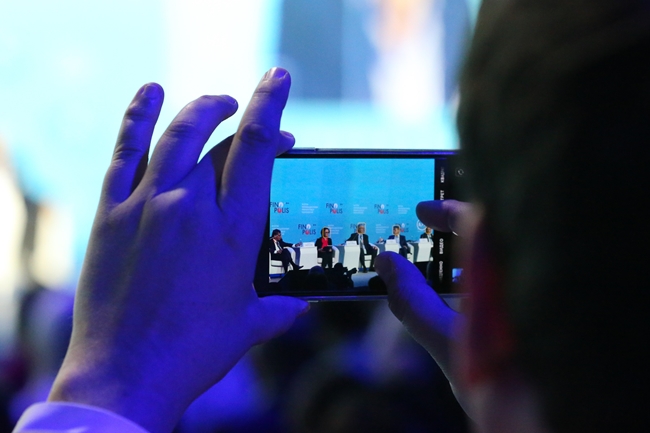 Between 17 and 19 October, over 1,400 participants from 37 countries attended the event which included 3 plenary sessions, 12 sectional discussions, 3 roundtables and 7 open lectures.
Participants of the plenary session titled 'New Competitors and New Alliances; Fintech as a Competitive Market Driver' discussed the specifics of competition in light of new financial technology being rolled out in the banking sector, ecosystem developments and the regulator's role in the development and application of financial technologies.
'Under the approach we advocate, elements of an infrastructure type that are essential to all market players must be set up by the state or under the state's auspices. This would ensure that all market participants enjoy equal access to this infrastructure. We believe that infrastructure elements including the remote identification system, the faster payments system, and digital infrastructure for digital finance must be established as national infrastructure, with the other elements to be connected to it. Moving forward, financial institutions themselves will have to compete in services and new technology', Bank of Russia Governor Elvira Nabiullina said.
Experts highlighted the importance of personal data protection in the use of Big Data for financial technology. 'Some are ready for complete disclosure, some are not. Personal data protection is crucial – I am absolutely positive about that. We must ensure that citizens are able to manage their data', Elvira Nabiullina emphasised.
The use and protection of personal data also featured the plenary discussion titled 'Is Data the New Oil?'. Big data analysis brings advantages to both banks and clients: client profile analysis helps banks come up with really necessary products. However, citizens should have their privacy protected, the experts noted. 'The majority inclines towards the opinion that data are a citizen's property, and many would like to make decisions as to which data and to whom citizens supply. Furthermore, a digital profile would be a good tool for banks and other organisations, enabling them to skip a large number of state sources and, for security reasons, automatically receive data with customer consent', Olga Skorobogatova, First Deputy Governor of the Bank of Russia summarised the discussion.
Plenary discussion 'FinTech as a Platform: from Pilot Projects to Real Solutions'. This discussion was dedicated to the real projects the regulator is implementing jointly with market participants, and their prospective development.
The remote identification system is one of such major projects, along with the faster payments platform. 'These projects are helping market participants develop other projects and other opportunities', noted Olga Skorobogatova.
Another infrastructure project is Marketplace. 'The Bank of Russia creates a regulatory environment that enables the emergence of aggregators collecting offers from various financial providers. The immediate key purpose is to create client bank services, which will provide the bank with an opportunity to sell its services in remote mode. Marketplace is a new stage of development, where the same software installed on a gadget enables an individual to gain access to the services of multiple banks', explained Sergey Shvetsov, First Deputy Governor of the Bank of Russia. He went on to highlight that Marketplace would encourage competition. 'At minimum, the set of services we would like to bring to the market would include OSAGO, government securities, household deposits and, probably, certain investment products. Moving forward, it will be for the market itself to decide what else should enter Markeplace: perhaps, something beyond financial products', he added.
The citizen's digital profile creation project was also raised in the course of the discussion. This service will allow a provider to receive, with customer consent, customer information from different sources.
'It gives me great pleasure that we are working to create projects that are the so-called must-have projects from the regulator's standpoint. The time has come when we must join efforts to deliver on something that everyone can benefit from', Olga Skorobogatova summarised. She also invited all participants to deliberate on the success of current infrastructure projects in one year's time at FINOPOLIS 2019.
19 October 2018