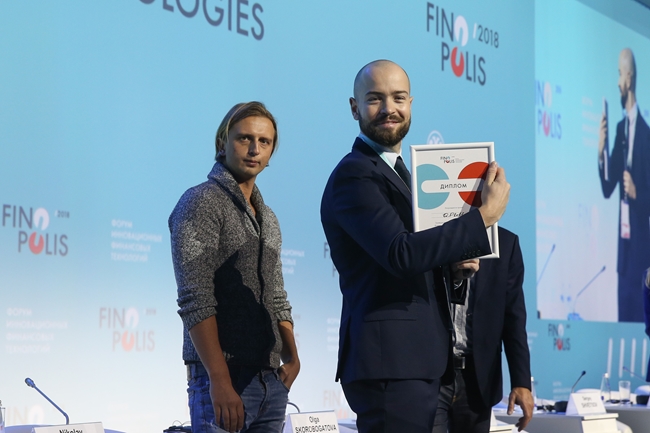 On 19 October, FINOPOLIS 2018, an innovative financial technology forum, held an award ceremony for the winners in its annual startup contest.
Over 100 teams applied. Of them, ten teams made it to the final and presented their projects at the forum. They had been selected by an expert jury composed of BoR representatives, the FinTech Association, and leading banks and financial companies. The projects were dedicated to payment services, mobile platforms, investment, banking services, scoring systems, and other aspects of financial technology.
The winners will be awarded business development grants.
This year, as many as four teams emerged as prize winners. They presented the following projects:
In first place:
Q.Platform: creates quick connections through open interfaces of interaction between platform participants: banks that provide financial infrastructure and fintech companies that need the infrastructure to establish and develop proprietary business models and innovative solutions. This is a full-fledged Russian creation with a clear В2В focus.
In second place:
Corporate settlement service Seeneco, a platform that enables faster B2B settlements through e-invoice exchange and instant web-bank-based payment.
Third place was shared by two projects:
QROOTO, a mobile application-based cashback service helping producers incentivise sales. Users receive a handy saving tool featuring a cash withdrawal option. The program platform, CraftTalk is a set of instruments to create flexible business solutions and automate services, sales and marketing.
In the course of FINOPOLIS 2018, the contest participants were provided space in the Fintech Startup Alley in the Forum's exhibition zone so they could meet their potential customers.
The fintech startup contest was held for the fourth time. It aims to develop an environment of innovation on the back of growing high tech projects, and the identification of promising concepts and ideas in electronic interactions in the financial market.
19 October 2018