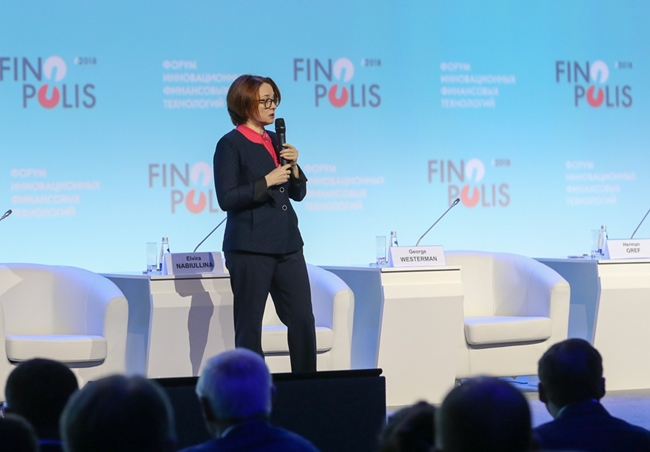 FINOPOLIS 2018, an innovative financial technology forum organised by the Bank of Russia, opened on 18 October in Sochi. In her opening remarks Bank of Russia Governor Elvira Nabiullina noted, 'The Central Bank has complex challenges to address as it strives to support financial technology. We have to pass between Scylla and Charybdis. On the one hand, our regulation should not squeeze financial technology to death; on the other, we should watch for risks leading to potential problems for citizens and business. It is therefore crucial that our regulatory approaches are crafted jointly with the business community.
Our financial sector shaped up quickly in the 1990s. It is not without structural imbalances such as the large share of major players in the financial market, and the large government stake, so we are against financial technology preserving or even aggravating such imbalances and mismatches. Neither are we willing to let these imbalances and mismatches stand in the way of technological development. This is why we at the Bank of Russia are working intensely to promote and establish critical national infrastructure elements – to help them in financial market development. I'm referring to remote identification, speedy payment systems, and digital service infrastructure – because having this national infrastructure would, in our opinion, ensure a level playing field for all financial market players'.
On day one, forum participants will discuss state and business interactions in the process of creating new technological services, as well as the role of financial technology in the promotion of a competitive market. The plenary discussion was joined by Deputy Prime Minister Maxim Akimov, CEOs of major large Russian banks and a leading researcher in the field – George Westerman, Principal Research Scientist with the MIT Sloan Initiative on the Digital Economy.
The value and potential of big data and rules of the game in the fight for big data will top the agenda for another plenary session. Also discussed will be data security in the handling, storage and transmission thereof, and the capabilities of artificial intelligence.
The benefits and risks of artificial intelligence will also be the subject of a separate FINOPOLIS 2018 session. Speedy payment systems, the banking system's transparency and protection will also feature the forum's day one agenda. In addition, the forum will host several open lectures by George Westerman and Vasant Dhar, a professor at the Stern School of Business and the Center for Data Science at New York University.
Day one events also include an award ceremony for FinTech Youth Day winners and the final stages of a fintech startup contest.
18 October 2018