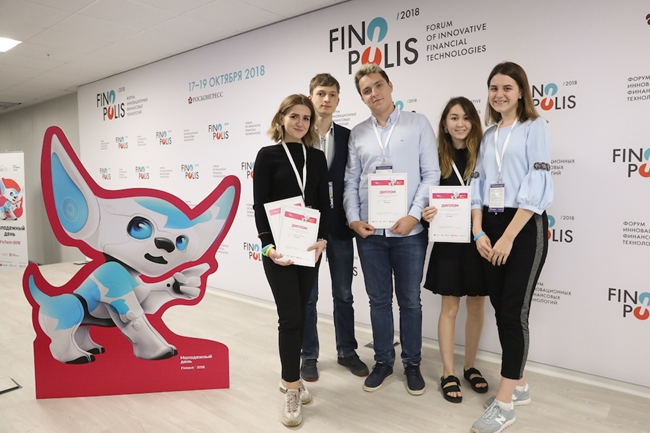 On 17 October, FINOPOLIS, an innovative financial technology forum, announced the winners of the Youth FinTech Day. This is the second time this event has taken place as part of FINOPOLIS.
The qualifying stage of the contest took place in summer 2018, when over 100 student teams from different Russian regions applied. The virtual tour was a case-solving contest, where teams were supposed to complete tests put together by forum participants, with leading financial sector experts evaluating their performance. 12 student teams from nine Russian cities made it to the final; they included two teams from the Sirius Educational Centre.
On day one of the youth programme, participants matched wits in real market cases and defended their projects before the jury.
Each team had to work on one of the four cases they had described in the course of pitch sessions:
Present a family finance solution (administration and planning)
Propose an 'ideal' personal finance management solution
Improve a current bank product (the campus card)
Come up with a tool for financial institution's customer need analysis based on media coverage and social networks.
The following teams emerged as FinTech Battle winners:
ALSER (Don State Technical University)
Zlye Tapki (Russian for 'Wicked Slippers') of Perm State National Research University
Kitek (ITMO University, St.Petersburg, and St.Petersburg State University of Economics)
Decentury of Novosibirsk State University.
'You know our forum is still relatively new. This is the fourth time we've held it, and the second time we've put on Youth Day. Last year, it attracted a lot of interest and this year we have also seen keen interest from market participants. CEOs of a number of financial companies asked if they could attend lectures, see the teams and take a look at what the kids would be doing. It means our financial institutions have a great need for you and for what you do', said BoR Governor Elvira Nabiullina welcoming Fintech Youth Day participants.
Beyond contests, Youth Day participants attended lectures and master classes delivered by key FINOPOLIS partners; they spoke with representatives of successful fintech startups and CEOs of leading Russian banks and IT companies. Also, participants were invited to the open lecture 'Fintech: platforms and strategies' given by Vasant Dhar, professor at the Stern Business School of Business and the Centre for Data Science at New York University.
17 October 2018