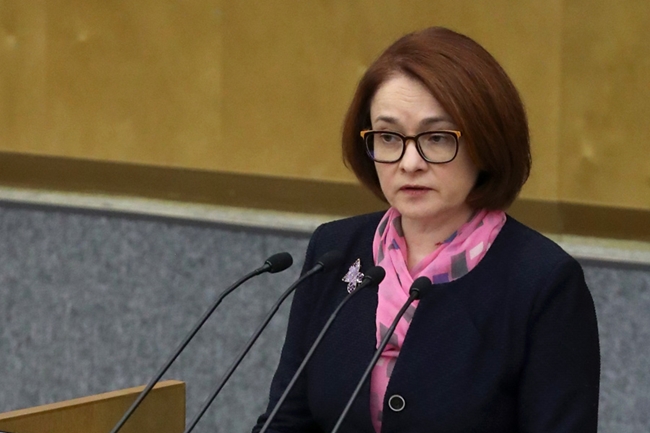 Photo: Vyacheslav Prokofiev / TASS
Good afternoon, distinguished deputies.
I will report on the work undertaken within the past year. I cannot overestimate our regular and highly productive interaction with the Duma, which is very attentive to our operations. This report alone gave reason to as many as 100 questions from parliamentary parties. Prior to this plenary session, there have been five meetings of the working group and a joint meeting of relevant committees.
I know that you have read our complete report on operations. This is why let me dwell on the socially important aspects of our operations – those critical to delivery on the key task of a financial system, that is, supply of financial resources to the economy.
Let me begin with our monetary policy stance. It is a fact that over the last few years the Bank of Russia has been fighting inflation. Back in early 2015, inflation was about 17%. This high inflation put both our citizens' welfare and companies in jeopardy. Through our policy we strove to deliver on the 4% target for inflation. Our economy is comfortable with this rate of inflation; it protects the personal purse, enabling business planning and helping ramp up corporate performance – inasmuch as low inflation prevents companies from passing growth in production costs on to consumer prices.
We delivered on this target last year, and inflation has stayed around the target for almost one year. Our policy should remain no less cautious in subsequent years, considering the objective of delivering a sustainably low rate of inflation and securing public confidence in future.
This is no easy task – this will not come by itself. Inflation is influenced by inflation expectations, while the latter are affected by inflation structure. In this way, rising petrol prices (we are looking to the government to stabilise this situation) and rising utility prices spark inflation expectations even if headline inflation is low. These are two sensitive factors.
We estimate the forthcoming VAT increase to add roughly one percentage point to inflation. Importantly, with inflation currently totalling 2.5%, we are very much on course to stand the stress of this VAT increase so we can meet our public commitment of inflation at 4%. Our forecast suggests inflation could exceed the target to 4.5% next year only temporarily and is set to return to 4%.
We have always taken – and we will always take into account the economic potential so that growth is never undermined through our course of action but only benefits from it. Last year, the economy's growth rates were close to potential. Interest rates on bank loans are declining sustainably, while lending amounts are rising (the amount of loans extended to the corporate sector over the last twelve months was up 4.3%, that extended to private individuals – up 18.3%). Interest rates on loans to the corporate sector went down on average from 11.3 to 8.5%, while those on loans to private individuals – from 15.3 to 13.3%, while interest rates on mortgage loans went down from 11.4 to 9.57%. Importantly, mortgage lending is growing very fast: it was up 20.2% in the twelve months.
Let me emphasise: this growth in lending would have been impossible but for the clean-up process in the banking system when weak or irresponsible players are made to go. We have been working in this area for more than a year, and it is the most painful and complicated field of our activities.
We have revoked quite a lot of licences: roughly 50 were revoked last year and 28 this year. Putting these banks under resolution involved the need to allocate considerable amounts of funding to top up their capital and liquidity position. We can claim however we have made some progress.
Weak banks could not have ramped up lending and could not have withstood the various external headwinds.
Last year we made most of the journey to clean up the banking system – probably the most difficult leg of this journey. We were forced to rehabilitate three major banking groups. The new financial resolution law (indispensable to solve major banks' problems) was passed last summer. Less than two months after, it was first applied in the cease of Otkritie; in roughly one month we applied it to B&N Bank and later in the year – to Promsvyazbank.
In this connection, let me express our gratitude to you deputies for adopting the resolution law. But for this law major banks' problems would have cost both the public and the financial system a lot dearer. The three groups were major players comprising non-governmental pension funds, a large insurer and other banks. Their operations cover the real sector and households; they are integrated with other financial institutions. Their resolution enabled us to protect millions of citizens against loss (these banks' customers were 8 million people) and hundreds of thousands of enterprises (563 thousand).
Let me stress that in future we will resort to financial resolution very seldom, so that covered will be only major banks of which systemic importance to federal and regional markets is indisputable.
We expect to recover most appropriated funds allocated through the handling of their assets, sale of assets, the handling of non-core assets, watching the repayment schedule for provided liquidity, as well as through the sale of a united bank.
This is certainly a very large amount of money – the price of unscrupulous and irresponsible behaviour of these banks' owners. Their controlling owners, as well as many other owners of banks that had their licences revoked, are at large. More so, they are in possession of their assets unrelated to the banking business. It would be only fair if they were held accountable.
We look to deputies' help to solve this issue – so that we can stop bankers who irresponsibly dispose of other people's money, because the banking business is about managing other people's money. We look to your support for the introduction of subsidiary liability of owners for bank owners (that is, full liability through all their assets, in addition to assets on the bank's balance sheet). This would include seizure of assets of a troubled bank, overseas travel limitations for bank owners responsible for their banks' failures and penalty enforcement in the case of book-cooking.
The banking system's health is a critical prerequisite for it to sustainably support economic development; yet it is not the only one.
Over many years banks profited from the type of business that was of no real practical value to the economy. I refer to the funding of mergers and acquisitions, that is, the redistribution of property. I further refer to secured lending without a check into the borrower's business operations – meaning the bank was not concerned about loan repayment and what implications the loan has for the borrowing enterprise's operations, but about who becomes the owner of pledged assets, that is, the owner of the company should it default. I also refer to the funding of bank owners' business. We intend to carry on fighting this practice, for this lending is ultimately at the expense of bank customers.
To solve these problems, beyond strengthened oversight, we are increasingly introducing incentive-based regulation. This regulation will introduce requirements that will make the above types of activity unprofitable; these requirements will also extend to lending in US dollars, while at the same time they help boost banks' interest in lending to the real sector, to project finance and to small and medium enterprise.
The new regulatory innovation here is the migration to a three-layer banking system. This is based on proportional regulation legislation you adopted last year, and it gave rise to a lot of discussions.
The key objective here is setting the right conditions for regional banks to enable them to lend to SME. This is a transition year. Our estimate is, a third of all operating banks will work under a basic licence and primarily lend to small business. They will enjoy streamlined regulation and easier reporting.
Basic-licence banks are a very important type of lenders to us. We are confident that the outcome of these changes will be the emergence of a new type of banks, effective and meaningful for the overall economy and SME.
Let me now update you on our progress as a mega-regulator in overall financial market development.
We regulate approximately 13 thousand market entities. These include insurance companies, non-governmental pension funds, unit investment funds, microfinance organisations, pawnshops, consumer credit cooperatives, professional market participants and rating agencies.
Each of these markets is not too large relative to the banking system, each of them is a great deal, dozen times smaller – but their role in the economy is increasingly more important. They increasingly provide a source of long-term funding, a source of alternative bank instruments for citizens to place their funds into and for business to receive lending.
We have worked towards the onset of an appropriate regulatory and supervisory environment in each of these markets. These efforts have resulted in a fairly healthy, in terms of the sustainability of a business model, system. True, there are inherent problems in each segment. However, each segment is overall steady.
We are currently setting out two key objectives in the financial market. One, similar to the banking sector, we are working towards redirecting the available resources of financial institutions, and they are available indeed, to the real sector of the economy. And the second objective is consumer protection and the development of financial inclusion and financial literacy. Citizens should have the opportunity to receive a financial product they need any time and any place regardless of where they reside; they should be entitled to clear and transparent information including on product risks and their own responsibility; they should have every chance to protect their interests should the financial service provider prove irresponsible.
Let me begin with the first objective. Funding the real sector. The pension savings market is key to the entrenchment of long-term funding in the economy, among other things.
Pension funds' assets currently total nearly 3.9 trillion rubles. Our objective is to secure the transformation of these large sums into long-term investment. We have been consistently updating regulation to ensure that non-government pension funds have more incentives to invest in the real sector. These efforts have resulted in the portfolio of pension savings turning in almost twofold growth into real sector investment over the last two years – from 530 billion to 958 billion rubles. Going forward, we will be working towards helping this trend consolidate.
As before, the development of pension savings tops our agenda – it is our top priority to create a convenient pension contribution system for our citizens. To people, pension savings are a safeguard for sustainable post-retirement quality of life, while for the overall economy it means the development of long-term finance. We therefore intend to further promote the new individual pension capital concept.
We intend to further support the development of the bond market (with its last year's growth of 20%, it is a fast-growth sector, with bonds increasingly becoming a convenient tool for businesses to attract financial resources); they are also a life insurance form, as well as other sources of long-term funding in the economy. Lower and sustainably low inflation will enable us as the mega-regulator to create a source of long-term funding for the economy so that financial institutions shore up economic growth.
Our second focal area is consumer protection and financial inclusion.
Let me begin with the insurance market, with OSAGO being the most popular product. This is also the sector affected by overall system imbalances; in recent years, we have been forced to deal with its most acute problems, working to make OSAGO policies more easily available (there were considerable problems here), to change prices to stave off a collapse, potentially driven by overall OSAGO system imbalances, of the OSAGO market in some regions.
In 2017, OSAGO was launched as an e-service. Thanks to their electronic format, OSAGO policies are becoming more available to citizens (initially insurance companies did not want to sell OSAGO through their offices in unprofitable regions – but there is no way you could back away from an online sale of a policy). 2017 saw a total of 7.8 million e-contracts (about 20% of total OSAGO contracts) signed, with e-OSAGO currently standing at 25% – i.e. we see the share of electronic OSAGO growing.
Among the 2017 innovations was also priority in kind compensation of damage (i.e. repairs) in OSAGO. I remember the hot debate around this subject – and we believe it was a productive discussion. This new arrangement erodes any potential fraud in traffic lawyers' business. Data on new contracts show that as many as 15–20% of reimbursement is already in kind. We will monitor the situation to make sure there are no complaints about the quality of car repairs.
However, the OSAGO situation is far from steady. Most OSAGO-related complaints are about the bonus-malus coefficient. Hence the proposal that this coefficient be changed. We propose to simplify it and make it fully transparent to car owners.
We have also drawn up proposals to make OSAGO prices more flexible, having widened the price corridor by 20% up and down.
For risks of each driver to be treated on a fair basis, it is proposed that 50 driver categories are introduced (vs the current five), based on a number of criteria: experience, age, accident incidence rate, etc. That means that each driver will be able to expect the fairest price, while careful and responsible drivers will enjoy prices without the risks of less responsible drivers priced in. More flexibility in prices will foster competition in this market – even companies that have so far shunned this market will make forays into challenging regions. Consumers will enjoy better availability of policies, and in the long term, better prices, as a result of tighter competition. We are ready to discuss the specifics of these innovations with deputies; we heard a lot of questions on this subject in our preliminary discussions. This is where we are open to dialogue, and we believe such changes are becoming imminent.
Now about microfinance. Microfinance organisations comprise a relatively modest segment by assets, a segment more than 700 times smaller than the banking sector (about 113 billion rubles for late 2017), but microfinance is a socially important service. People must have the opportunity to take pay-day loans – no one is immune to difficulties. Two years ago, we made the decision to fight against usurious interest rates. The appropriate restrictive measures have been taken since then. We have put debt load guards in action, and we think that we are currently in a position to further reduce this protection level and these restrictions. The changes to the legislation are now under discussion.
While we are toughening requirements for legal entities, we have to make sure people do not suffer from illegal creditors. We are working together with the Prosecutor General's Office and law enforcement agencies.
In 2017, as many as 1,344 illegal creditors were detected, and in the first quarter of 2018 alone about 1,300 – thanks to improved detection practices.
I now want to proceed to cover another current issue. This is financial inclusion in low population and remote areas.
We hear deputies raising the topic at almost every joint meeting. Almost a fifth of Russians live in small towns with population of under three thousand inhabitants. Banks find it cost-inefficient to keep offices in such towns and service ATMs, but financial services should be universally accessible.
With a view to coordinating the efforts aimed at better financial inclusion, the Bank of Russia created a working group of which members included among others major state banks with large branch networks in the regions. The progress so far includes the signing of a cooperation agreement with a large satellite Internet operator, and talks with other such operators are under way. The Far Eastern Federal District, a very challenging region, is now seeing the launch of a special financial inclusion project.
Key opportunities to support financial inclusion in sparsely populated areas consist in the development of financial services based on Russian Post infrastructure. Russian Post comprises over 42 thousand offices, with 18 thousand points of presence of financial services to be launched on their basis through the end of 2018.
This is about the availability of services. We also have a special working group on increased availability of services to people with disabilities and mobility-impaired individuals – this is a vulnerable group, and we are committed to preventing its discrimination and making sure banking is equally available to them.
I will now say a few words about consumer protection. For quite many years, the Bank of Russia has been interacting with citizens: our electronic reception facility receives complaints via the Internet, and call centre handles telephone calls. We analyse these complaints so that we can quicker respond to the most acute of problems. We note the problem of tied and too risky products, when low financial literacy is the cause.
Beyond tied sales, mainly in insurance, we come across banks selling some products in the guise of other products: promissory notes and life insurance policies – so here too we see customers forced into buying unwanted products. We would like to discuss the introduction of a very rigid measure – a total ban on the sale of promissory notes to private individuals. This market was rife with fraud.
On the issue of right protection, I would like to mention the deposit insurance scheme. You also brought this up, so we support the proposed insurance expansion to cover small business; we believe it would be expedient to pass the relevant law faster. It is also necessary to explore the possibility of extending insurance to charitable and social services organisations. Other proposals include an increase in the amount of insurance indemnity to 10 million rubles in some cases when citizens for objective reasons failed to manage the risks related to their deposited funds. This is the case of cash from property sales, a number of insurance payouts, social security benefits and some others. We hope the proposals we have discussed with the Deposit Insurance Agency will be supported.
The efforts to improve financial inclusion should progress in parallel with a financial literacy programme. We are building a separate system of conduct supervision which protects citizens when a company deliberately acts against their interests. It is in many ways financial literacy that would safeguard a person against financial fraud. In this focal area we join ranks with the Ministry of Education and introduce the relevant courses into curricula; we hold special events for elderly people, as well as those targeting institutionalised children who have yet to realise the risks of financial life on exit from orphanages; we also arrange educational events for people with disabilities and many other things. Last year, we launched a financial literacy portal titled 'Financial Culture', and our territorial branches are actively involved in financial literacy enhancement efforts.
Now very briefly I would like to say a few words about the development of the national payment system. There are 37 million Mir cards in circulation. It is very important to us that, beyond growth in the number of cards issued, growing too is the volume of non-cash transactions carried out by Mir. This means people are indeed using this card. And we intend to make every effort to ensure Mir is commercially viable and convenient. Last year, we initiated the transfer of public sector employees and pensioners to Mir. Over 95% of those who used Mir (because one can choose between the card option and cash) and 95% of those who used international payment systems have switched to Mir. In accordance with the new procedure, pensioners will migrate to Mir on expiry of their current cards.
Let me stress once again that our activities related to the performance of statutory tasks (sustaining financial and price stability and developing the national payment system) are all intended to support our economy and enhance our people's welfare.
Thank you for your time.
19 June 2018