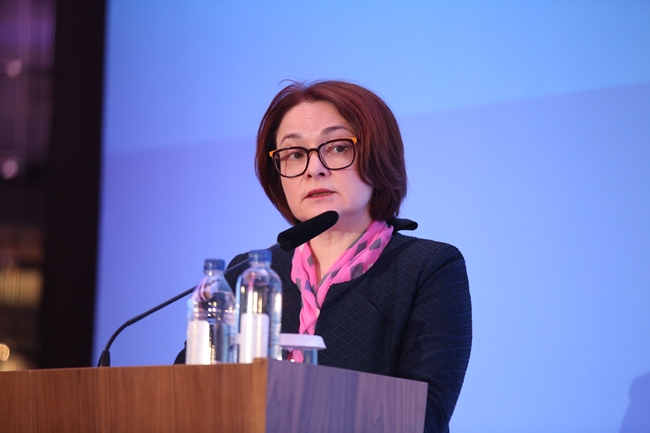 Good afternoon, distinguished colleagues.
Thank you very much for your invitation to today's conference.
As a mega-regulator, the Bank of Russia is primarily focused on efforts to ensure balanced development of various financial market sectors. The current trends in the performance of the securities market, the collective investment market and trust management are overall promising.
Here I cannot do without some figures that I believe are illustrative of this performance. To take one example, over the past two years trust funds in the individual trust management sector alone grew fourfold to exceed 800 billion rubles.
A strong performance has also been seen in brokerage services of late, where customer bases are growing (the absolute growth of 372 thousand customers in two years) and asset management services (the absolute growth of 64 thousand in two years).
Trust assets in the collective investment market increased almost 60% in 3 years (from 1.9 to 2.9 trillion rubles). The bulk of these funds is invariably handled by closed-end funds; these are used by qualified investors in individual projects. Furthermore, the volume of open-end UIFs [unit investment funds], mainly intended for retail investors' operations in the stock market was also up substantially and totalled 216 billion rubles. This is virtually a twofold rise in three years.
These fugues indeed bear out a fairly strong performance. We might not be too happy about the volumes, but the trends of recent years have indeed been promising.
With declining inflation and dropping interest rates on banking products, retail investors are becoming increasingly interested in alternative products. Furthermore, we now have new technology – and Mr Oleg Vyugin spoke about it – and it enables financial intermediaries to create new products and make private banking services available to various customer categories. All this paves the way for further growth in these segments.
Investor confidence is a precondition for sustainable market growth. This implies the stability of financial institutions per se and a mature system of customer protection in place.
For financial markets, confidence now comes first. Investor protection should be the focal point of both the regulator and the markets. Investor protection should be a shared task for the regulator and the market, and a first priory task for self-regulatory organisations. We believe qualified investors should enjoy maximum flexibility from the side of financial intermediaries; they should be able to offer a product that meets customer demands. As regards non-qualified investors, they should enjoy a high level of protection against loss alongside information transparency and a framework to remove the pitfalls related to financial products; regrettably, such pitfalls are numerous.
Let me outline the key problems we need to address.
First. We need to deliver better information transparency and access to information on the margins and risks of financial instruments.
Second. We should establish rules for sale of financial instruments and services; these will prioritise customer needs, beyond an intermediary's or agent's commercial interest.
These two objectives are essentially about countering misselling at various levels. This is a priority task for the development of the market. The costs of selling a product to a disappointed investor are far above those of selling a product to a new investor. They are still higher than the costs of selling a product to an investor with successful investment practices. Therefore, when a company disappoints an investor, it does harm not to itself alone but to the whole market. We expect counteraction against unscrupulous market players to take place across multiple levels including self-regulatory organisations.
Third. We need to expand access to financial instruments and services. The offer of several products is highly concentrated in individual regions or even companies. Specifically, as many as 75% of brokerage firms' customers and 86% of individual brokerage accounts are handled by five major brokerage houses; three major companies alone manage 85% of asset management customers and 96% of individual investment accounts.
The Bank of Russia joined efforts with Moscow Exchange to launch the financial marketplace project. We look to this project to help us address these issues, while it will also help enhance competition among financial service providers. This project tops the agenda of many forums with many questions awaiting answers. However, it is crucial that we champion this project, as long as it offers choice to the consumer and fosters competition in the financial market.
Fourth. There is a need for a framework to separate a financial institution's own assets from the assets of its customers. A reliable framework should guarantee protection of investor rights if a financial intermediary goes into bankruptcy. The amendments to the Law on Bankruptcy, currently in the works, will remove legal uncertainties arising when a professional securities market participant files for bankruptcy; more so, they will provide for customer assets to be separated from a lender's own assets intended for its securities market operations.
Self-regulatory organisations will play a prominent role in the efforts to enhance transparency and make overall market operations more comfortable for retail investors.
A mature institute of self-regulatory organisations will add a competitive edge to the Russian financial market, help create a holistic regulatory framework that will meet both professional market participants' and consumers' needs.
Current regulations introduce a new regulator and industry interaction format - the basic standard. Basic standards are intended to reinforce best practices and make possible a flexible and prompt response to a changing operating environment. Notably, much effort last year went into the following accomplishments: several basic standards were developed, concurred and approved. These extend to forex dealers, brokers, asset managers and depositaries. Many new standards are now in the works; among those are key standards for consumer protection and corporate governance. We attach great importance to these efforts inasmuch as they will help enhance trust in financial markets.
Special mention should be made of investor protection in the collective investment market.
The introduction of fiduciary responsibility for pension funds comes as a major regulatory change in the field of investor protection. Pension funds are now obliged to act in their customers' interests and reimburse them for losses or lost profits in the case of substandard asset management practices.
This proved a subject of hot debate; yet, the bill has been signed into law. In line with this law, stress tests, an advanced risk governance system and a reliable investment process are all statutory requirements for pension funds and essentially requirements for the quality of a pension product offered to consumers. I want to make specific mention of the importance of the stress testing tool. Regulatory action may be taken following the results of stress tests, on the one hand. On the other hand, once stress tests have stood the test of time, we will revisit the issue of potentially diversifying investment options available to pension funds - that is, once we realise that pension funds are steady enough to endure even adverse conditions.
Thanks to the introduction of the requirement that funds act in their customer's interests and that they run fair investment processes, voluntary non-governmental pension insurance funds will have stronger investment capabilities as they will be able to invest on their own and will no longer be required by law to turn to management companies.
Let me make it clear at once: our approach to investment funds was gradual. We first tested how ready the market was for the openness of cost items. It was not before the selected strategy proved viable that we scaled up the approach. Along the same line, we intend to test the pension fund market for operations without a statutorily required management company (for now, this will only cover voluntary pension insurance). It will be clear from the outcomes how feasible this approach is for mandatory pension insurance.
Management companies are certainly very unhappy about this decision; but it is our conviction that extra costs will ultimately fall on the consumer, hence the need to reduce them. Having said that, we understand that management companies built their business models based on the statutory requirement for their services, among other things; we therefore intend to introduce a transition period.
Let me conclude with the issue of proportional regulation; we want to discuss with market participants this key regulatory change we are working on and intend to implement.
Proportional regulation is now standard practice in banking regulation. This year marks a transition period for the banking sector. Before it ends, small banks will have to make a choice between a basic licence that authorises a limited volume of operations yet entitles them to the advantages of simplified regulation (with lower regulatory burden) or a universal licence whereby unrestricted operations come with higher regulatory burden and capital requirements.
We believe that non-bank financial institution should also move towards proportional regulation. This is where the right approach is needed, a choice is made between two approaches. The first one, similar to bank regulation, will call for differentiation of operations involving separate licence types. Under the other approach, individual performance indicators and the corresponding regulatory requirements will be set out in Bank of Russia regulations. This suggests a universal licence. This approach enables the organisation to estimate the volume of rights it needs to conduct operations relative to the volume of regulatory requirements such operations entail.
We intend to have a discussion of these subjects with the market, and we will publish a consultative report before the end of this year. Importantly, the Central Bank's practice of consultative reports has stood the test of time; it is through this tool that market feedback can be received at early stages of concept development, concerns looked into and corrections made as appropriate. This principle of open discussion will govern our regulation and new approaches. It is critical to ensure steady market development and a predictable regulatory environment where market players understand which business models to pursue and confident that these models are verifiable. I hope that we will be able to discuss this and other items here and at other forums of self-regulatory organisations in the future; this agenda is about the development of a market built on trust, high customer service standards and healthy competition as our common goal. Mr Vyugin has asked some questions [in this discussion], so I am looking forward to an interesting discussion today and tomorrow.
I wish you every success in your business endeavours. I hope that working in dialogue with the regulator will foster successful development of your business.
Thank you for your time.
24 April 2018