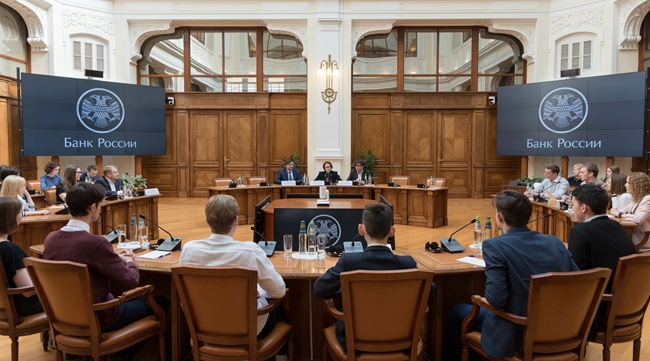 On 30 March 2018, Bank of Russia Governor Elvira Nabiullina met with Russian teenagers that are winners and runners-up of the XIII All-Russian Financial Literacy, Financial Market and Financial Consumer Rights Protection Olympiad for High School Students.
Elvira Nabiullina congratulated young guests of the Bank of Russia upon their achievements at the competition and told them about main areas of megaregulator's activity, its responsibilities with regard to monetary policy and removing unfair players from the financial market, about the importance of increasing financial inclusion of all Russian citizens and the role of the latest financial technologies for that purpose. She also covered such topics as blockchain, digital currencies and related risks.
'Finances are based on trust. Citizens entrust financial institutions with their savings. Therefore, it is very important that the professionals who come to work in the financial sphere should be honest and decent people, because they are the main resource for its sustained development, – Elvira Nabiullina is quoted as saying. – From your essays I understand that all of you have a proactive attitude to life, and so I suggest that, when making a decision about your future profession and the way in life, you should think about getting a higher education in the financial sphere'.
The meeting at the Bank of Russia gathered students from the Republic of Bashkortostan, Perm Territory, Ulyanovsk, Tyumen, Moscow, Kaliningrad Region and other Russian regions. Elvira Nabiullina provided straightforward and detailed answers to students' questions about inflation targeting and key rate calculation, ruble exchange rate and factors affecting it, dependence of the Russian economy on export of raw materials and the necessity to develop small and medium business. Students were also interested in when financial literacy will be taught in all Russian schools and what opportunities there are for the older generation to obtain financial knowledge and skills.
The day before the meeting, on 29 March, the awarding ceremony was held where 25 winners and runners-up received their diplomas, commemorative tokens, prizes and souvenirs.
The Olympiad has been held since 2004. During this period, more than 70 thousand students of 9-11 classes from 85 constituent entities of the Russian Federation and CIS countries took part in the competition. Over 15 thousand high school students submitted their applications to participate in it in 2018.
This year, apart from the organisational support, the Bank of Russia developed and suggested over 200 questions, 3 of which were chosen for the final stage of the competition.
The Olympiad was organised by the Interregional Non-Commercial Non-Government Civil Rights Organization Russian Financial Consumers Protection Union (FinPotrebSouz), National Institute for Financial Markets and Management, Institute of Stock Market and Management, Federal Service for Surveillance on Consumer Rights Protection and Human Wellbeing (Rospotrebnadzor).
30 March 2018