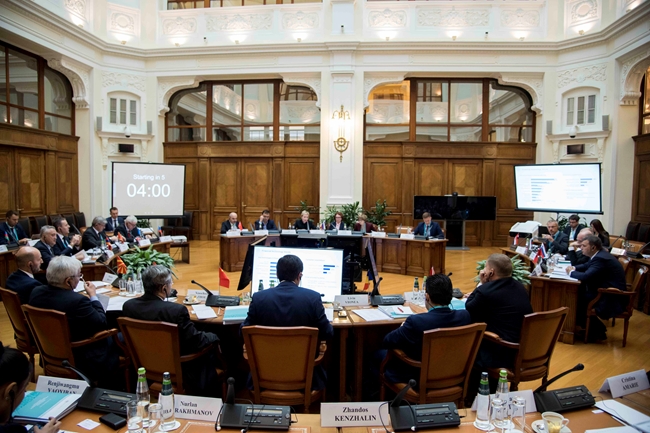 On 29 of September 2017, the participants of the 38th Meeting of Central Bank Governors' Club of the Central Asia, Black Sea Region and Balkan Countries discussed development and regulation of financial technologies in the banking sector. The event was hosted by the Bank of Russia.
The main goal of this discussion platform is to enhance cooperation between the Club's members and to arrange consultations on current issues of the global economy.
Representatives of 20 central banks, including delegates from China and EEU countries, participated in the meeting in Moscow. For the first time the representatives of the Central Bank of Hungary attended the Club`s meeting while the existing Club members expressed their support towards the country becoming new 25th member of the Club.
"Right before its twentieth anniversary, the Governor`s club becomes an even more relevant and well-regarded platform for sharing experiences, ideas and best practices in many key areas of central banking, - stated Elvira Nabiullina, Governor of the Bank of Russia, in her opening speech. - Its future potential as a discussion platform has yet to be fully explored and is still drawing attention of the other central bank governors in the region."
During the first panel session of the meeting speakers noted the globally increasing demand for innovative financial technologies. A fast pace of current technologies development and its overall influence on the banking sector provide new opportunities for customers, but also carry a number of risks related to their implementation. Various approaches to risk assessment were reviewed in respect of fintech's agile intrusion in member countries. Digital currencies development took a significant part of the discussion. Club members shared their common concern with risks shaping up following their expansion. It was noted that such risks are linked with advanced possibility of money laundering and terrorism financing. Besides, a high volatility on cryptocurrency market were also stated.
Participants agreed to elaborate on this subject by expanding the regulators' cooperation and exchanging the best practices. Further discussions in the Club format would allow to provide better approach to regulatory issues regarding fintech innovations.
The second session was dedicated to the current economic situation in different countries as well as issues of normalization of the ECB's and the BoE's monetary policies and its potential implications for the economies of the Club member countries.
The Governors` Club meetings normally take place twice a year. Next meeting will be hosted in Turkey in spring 2018.
29 September 2017